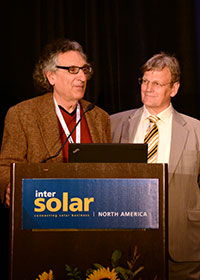 A Forest Journey
By
John Perlin
Ancient writers observed that forests always recede as civilizations develop and grow. The great Roman poet Ovid wrote that before civilization began, "even the pine tree stood on its own very hills;" but when civilization took over, "the mountain oak, the pine were felled."
This happened for a simple reason: trees have been the principal fuel and building material of every society over the millennia, from the time urban areas were settled until the middle of the nineteenth century.
To this day trees still fulfill these roles for a good portion of the world's population. Without vast supplies of wood from forests, the great civilizations of Sumer, Assyria, Egypt, Crete, Greece, Rome, the Islamic World, Western Europe, and North America would have never emerged. Wood, in fact, is the unsung hero of the technological revolution that has brought us from a stone and bone culture to our present age.
A Forest Journey tells this story.
Publications
Books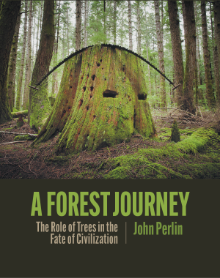 A Forest Journey: The Role of Wood in the Fate of Civilizationy, John Perlin, author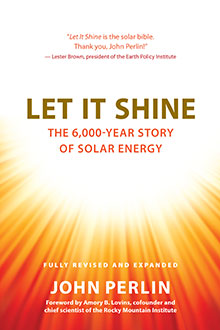 Let it Shine: 6000 Years of Solar Architecture and Technology, (John Perlin, sole author), available in bookstores mid September, 2013.
From Space to Earth: The Story of Solar Electricity. Ann Arbor, MI: aatec publications, 1999 (cloth); Harvard University Press, November, 2002 (paper) [Translated into Italian and serialized in Photovoltaic Magazine]
A Forest Journey: The Story of Wood and Civilization. New York: W. W. Norton & Company, 1989 (cloth); Cambridge, MA: Harvard University Press, 1991, 5th Printing, 2001 (paper). New Norton Edition, Countryman Press Imprint, fall, 2005. [Translated into Japanese, Portuguese, and Spanish]
A Golden Thread: 2500 Years of Solar Energy. (With Ken Butti.) New York: Van Nostrand Reinhold, 1980. [Translated into Japanese and Spanish]
Articles
Over thirty published articles in the following publications: Ad Astra, American Heritage's Invention & Technology, Chicago Magazine, CoEvolution Quarterly (now Whole Earth Review), Home Power, Journal of Science Education and Technology, New Shelter, Refocus Solar Age, Solar Law Reporter, Solar Today, Whole Earth Review, & World & I.
Op-Ed Pieces
"Solar Electricity Could Help California," San Diego Union-Tribune, December 27, 2000.
"The Tree of Life," Santa Barbara News-Press, "Voices from Santa Barbara," April 19, 2000.
"Letting the Sun Shine on Our Energy Needs," Santa Barbara News Press, "Perspectives," August 22, 1999.
Brochures
Understanding Solar Electricity, 2003; Californiasolarcenter.org.
Awards
London Times Book Review's "Editor's Intersting Hardbacks -1990: A Forest Journey.
Publication of the Year—1990: A Forest Journey. The Geographic Society of Chicago.
Selection – 1991 "Sampler of the worldwide whirl planned for EarthDay- Time Magazine
Harvard University Press Classic in Science and World History: A Forest Journey -1996
Harvard University Press 100 Books for Every Reader's Bookshelf: A Forest Journey -2004
Harvard University Press 100 Great Books: A Forest Journey- 2004
Documentaries
The Power of the Sun: One Century since Einstein's Photon/A Half Century of Modern Photovoltaics. Principal Researcher, Narrative and Script Writer. University of California, Santa Barbara, Department of Physics/Inca Productions, Mill Valley, California. August 2003 - July 2005.
Sunrise. Narrator, and Consultant, Provided Script/Images. U.S. Department of Energy's Million Solar Roof Program & Arizona Department of Commerce Energy. April, 2003 (for streaming video, see www.jpc.uni-linz.ac.at/os/indes-os.html ["History of Solar Cells (John Perlin)].